Do you have a small balcony that you dream of transforming into a little paradise? There are a multitude of inexpensive solutions to breathe new life into it. Trendy rugs, hanging plants, smart furniture … Here are all our ideas for creating a small balcony.
Just because your little balcony lacks space doesn't mean it should lack style! And then, having a balcony for sunny days is still a godsend to enjoy the sun and stroll. So, how do you organize your small outdoor space and transform it into a real dream corner? Space-saving furniture, subdued lighting, stylish maxi plants, trendy cushions … Stock up on decorating ideas to revamp your mini balcony!
1. Create privacy with plants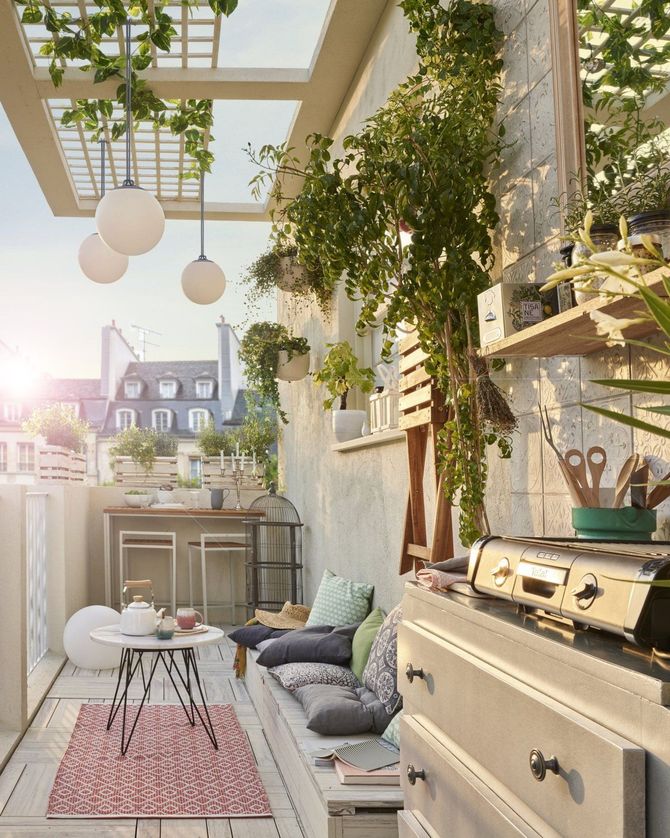 © Leroy Merlin
To hide a vis-à-vis and create privacy or simply to brighten up your balcony, plants are perfect. Hanging or climbing plants and balcony boxes are the space-saving allies of small balconies. Thanks to them, you will not waste floor space and free up some precious square meters for your furniture.
2. Bet on folding furniture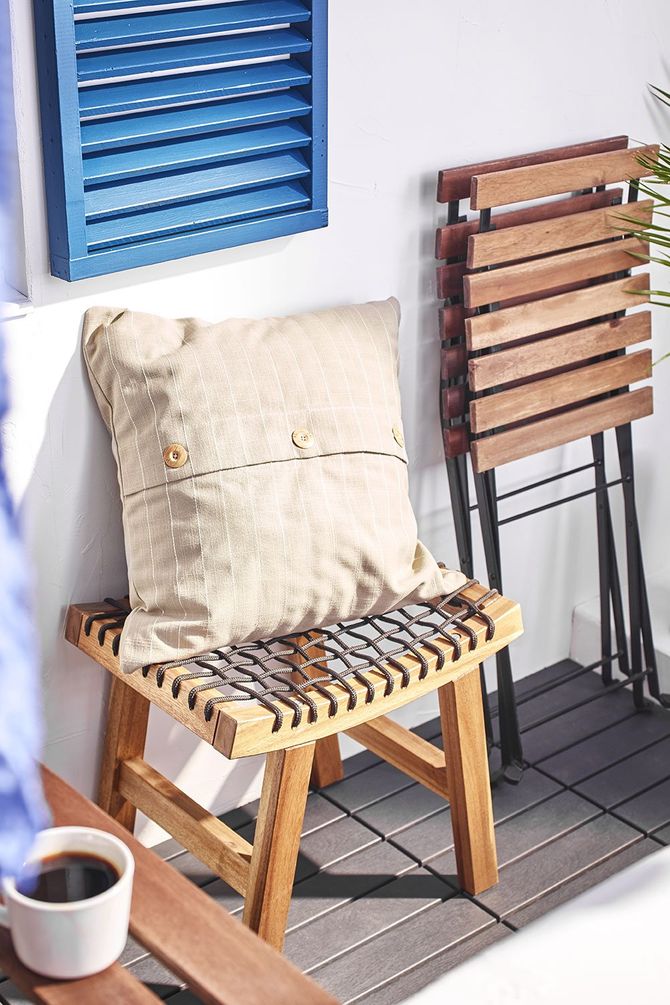 © IKEA
To compensate for the lack of space on a small balcony, opt for folding furniture. Folding table and chairs, folding stools … You can easily set up a dining area for your sunny aperitifs and put everything away in no time.
3. Opt for practical storage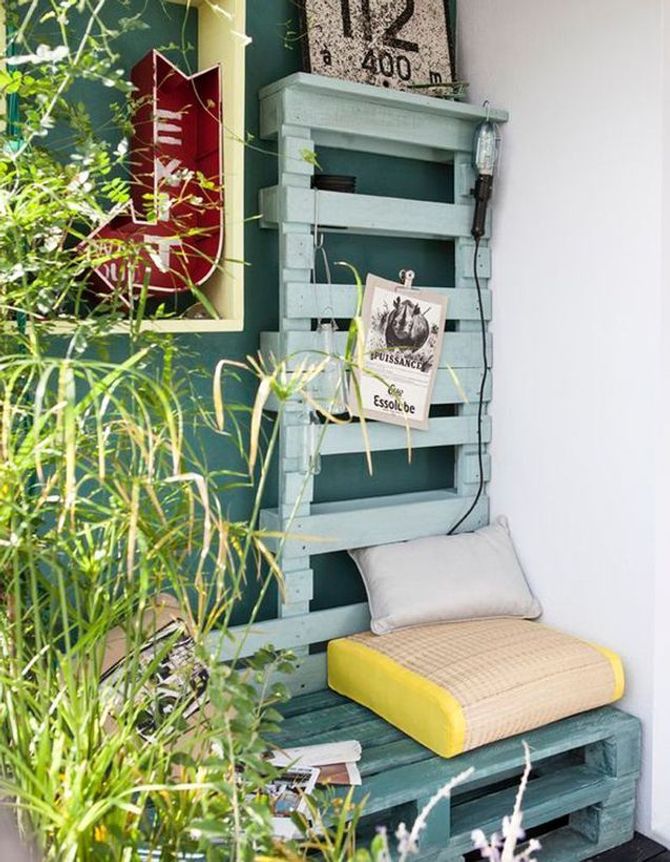 © Leroy Merlin
If you can install a bench with storage, you will combine seating and storage. Boxes, hooks, wall or corner shelves, and storage units are also a great help for storing your gardening tools, dishes, cushions and more. Get inspired by DIY salvage to make a nice storage with pallets for example.
4. Arrange a clever dining area on a small balcony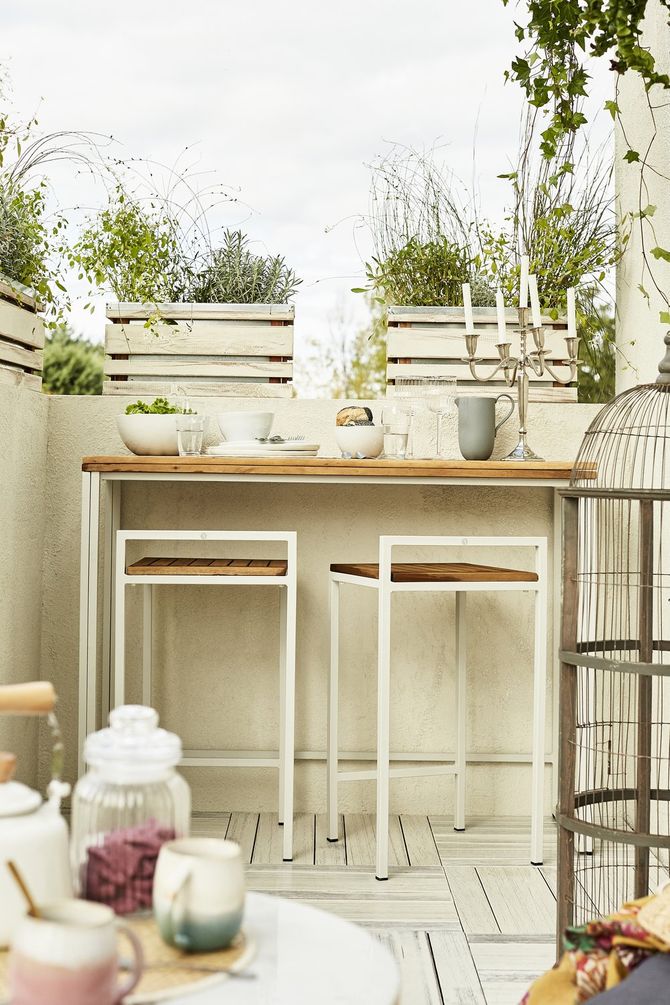 © Leroy Merlin
For the arrangement of a small balcony, you will have to make some concessions and choose what is most essential in your eyes, namely a lazy lounge-style corner or a dining area to enjoy lunches and aperitifs in the sun. If you opt for the second possibility, smart furniture and XS will be the order of the day. Also think about the bar, which can be stuck against a wall to take up as little space as possible. An advantage if you have a long balcony!
5. Create a cocooning corner for a cozy little balcony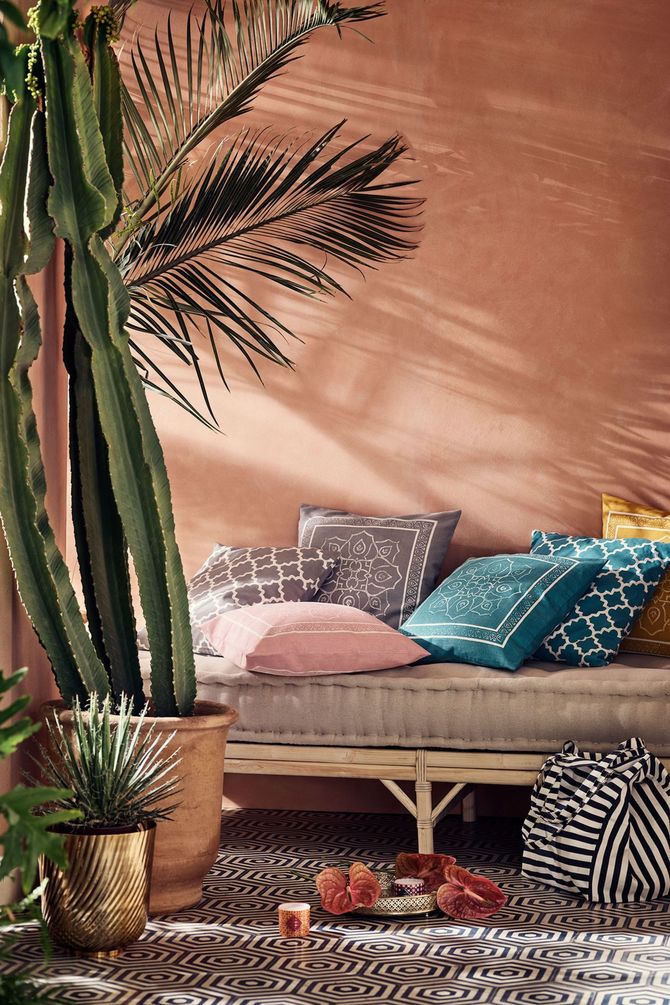 © H&M Home
Do you prefer to fall in love with a mini outdoor lounge and a small relaxation area? In this case, opt for a very wide bench, which can also serve as a 2-in-1 piece of furniture in which you can slip your things, a nice rug, a soft mattress and a few cozy cushions. A great idea for a cocooning corner where it will be good to laze around with a book and a cold drink!
6. Dress the floor with a carpet to revamp your small balcony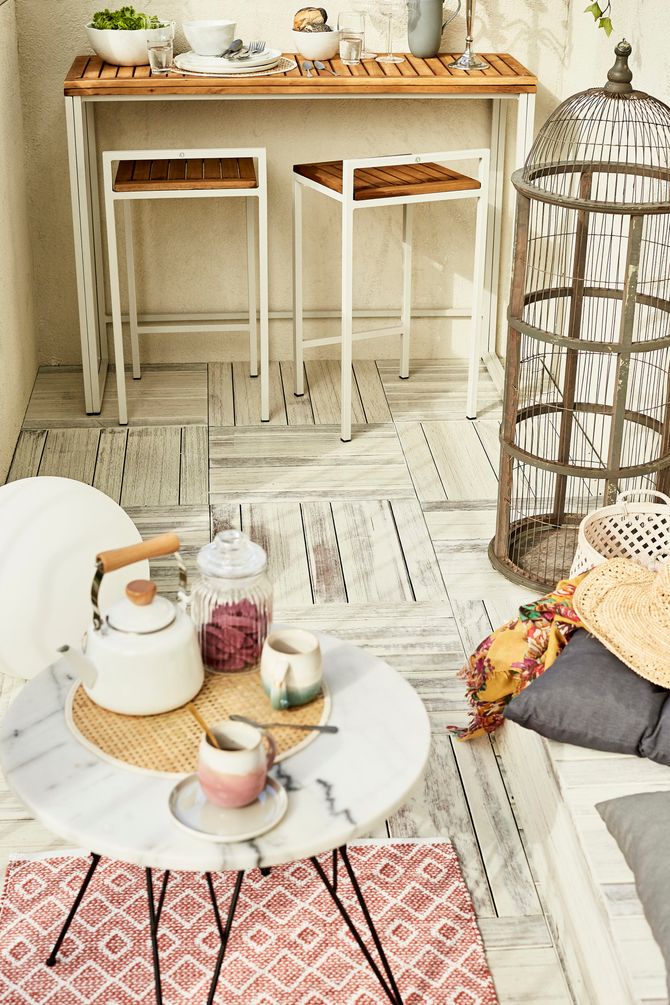 © Leroy Merlin
Rugs can change the mood and look of your balcony in the blink of an eye. To be right on trend, do not hesitate to superimpose several rugs of different shapes and different materials, a cozy effect guaranteed!
7. Use the wall for the decorative touch in addition
The ideal in a small balcony is to decorate one or more walls to free up floor space. Baskets, mirrors, trellises with climbing plants and frames will do their utmost to give charm to your outdoor space.
8. Fall for a pretty light garland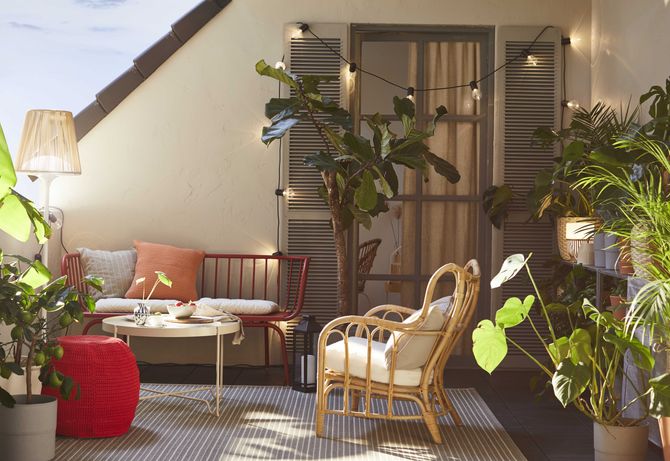 © IKEA
Finally, don't forget to provide soft, subdued lighting to enjoy your little balcony in the evening. Fairy lights are ideal for giving a cozy atmosphere to this corner. You can also add some candles and tealight holders to add a little magical side. So, isn't your balcony beautiful?,
Image source: Leroy Merlin